PANDEMIC DOES NOT MEAN PANIC
"If you panic that's a good way to lose. You have to stay in control." Ted Turner
With the
WHO's declaration
that the Wuhan Novel Corona Virus, now known as COVID-19, is now deemed a pandemic – pandemonium ensued throughout the world and
Trinidad and Tobago wasn't immune
to that, either. However, as worrying as the virus may seem, there are many simple steps that can be taken which will help us all come out on the other side stronger, more resilient and better equipped. The end-game of all the precautionary measures is to:
reduce the speed of the virus' spread,
flatten the curve of spread so as to not overwhelm our fragile healthcare systems; and
all in all keep ourselves and, by extension, our communities as safe and protected as possible.
Ensure that you and you loved ones exercise these 3 simple tips to keep healthy and protected as we combat the corona virus:
1. PRACTICE PROPER BASIC HYGIENE
Wash Your Hands
You've probably been overwhelmed with this particular tip but that goes to show exactly
HOW
important hand hygiene is in the fight against the spread of COVID-19, and other viruses, bacteria and germs.
Washing your hands
with soap and water is not only one of the cheapest forms of infection control, but it's also one of the most effective. It significantly helps to prevent and slow the spread of infection. So, please wash your hands – with soap. And for at least 30 seconds, too! After you've used the bathroom, or eaten (and before as well!), or come from outdoors, or touched someone who's unwell, or fed your pet, or blown your nose. What we're trying to say is just wash those hands more frequently.
Sanitise and Disinfect
Sometimes, it isn't possible to wash your hands with soap and water right away. Perhaps, you've just entered your vehicle. This is where hand sanitizers come in to play. Hand sanitizers should
NOT
REPLACE
hand washing. Instead, it should be utilized when hand washing is not possible. However, not only hands should be sanitized. Take some time to sanitize and disinfect frequently touched surfaces at home and the workplace such as telephones, doorknobs, keyboards, house and car keys, counter-tops and even stationery! Simply be mindful of the items you interact with heavily and spritz some disinfectant spray ever so often onto them. Some diluted bleach in a spray bottle can also work for some places.
 Cover Your Coughs and Sneezes
COVID-19, like the flu, can be spread from person to person. When a person
coughs, sneezes
or even talks, they spread droplets a short distance which quickly settle on surrounding surfaces.  As such, it's imperative that you cover your mouth with tissue when you cough or sneeze especially as persons with COVID-19 may not always present with symptoms. This means you can be infected – and inadvertently spreading the virus – before even becoming aware. Always immediately dispose of the tissue that you would have coughed or sneezed into. And, if you do not have a tissue, cough and sneeze into your elbow, NOT your hands.
2. PRACTISE SOCIAL DISTANCING
Social distancing
stops or slows the spread of infectious diseases because it means that there is less contact between you and other people. Social distancing is important with COVID-19 because it is most likely to spread from person-to person through:
direct close contact with a person while they are infectious
close contact with an infected person who coughs or sneezes, or
touching contaminated objects or surfaces, and then touching your mouth or face.
So, the The more space between you and others, the harder it is for the virus to spread. A few ways to practice social distancing is to:
Stay away from people, including family members, when ill;
Visit stores, shops, banks etc. more sparingly and try to use online services, if possible;
Stop hand – shaking and hugging as a means of greeting – utilizing waving hello instead;
Prevent meeting in large groups or where many persons are congregated;
Reconsider non-essential travel.
3. BOOST YOUR IMMUNITY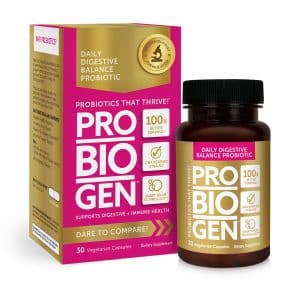 Unfortunately, despite our best efforts, some people will still be exposed to or contract COVID19. You must, now, equip your body to be able to fight off the virus as best and as quickly as you can. The main way to do this is by boosting your immunity. Your immune system is responsible for fighting off foreign invaders and keeping you in the best of health. So, what are some things that you can do to boost your immune system?
Eat foods rich in vitamin C like citrus fruits;
Get some vitamin D – so sit in the sun for a little every day or consider a supplement;
Take a good quality probiotic with verified strains, like ProBioGen, which is known to assist the body in boosting the number of good bacteria which in turn fights off those bad bacteria, viruses and fungi.
Tell us, what are some other ways you and your household are combating this COVID-19?