Looking at the statistics, heart disease is one of the leading causes of death in Trinidad and Tobago. It is truly dis-heart-ening. With a 20.4% increase from 2007 to 2017, maintaining optimal heart health is definitely the key to a longer, healthier life!
Poor lifestyle choices, such as imbalanced diets and lack of activity are on the rise. With this come the increased chance of high cholesterol levels.
But did you know that regular use of the supplement Niacin can help lower the risks associated with heart disease?
Also known as Vitamin B3, Niacin lowers total triglyceride levels in the body. It also keeps the nervous and digestive systems, as well as the skin healthy. A lack of this water-soluble supplement, primarily caused by alcoholism, may result in indigestion, fatigue, depression and memory loss. Although now rare in the developed world, Pellagra can occur if insufficient levels (deficiency) of Niacin are present in the body. Due to its non-specific symptoms like diarrhoea, scaly and cracked skin or nausea, its diagnosis generally delayed.
How Exactly can NATROL Niacin Help? 
It Reduces the Risk of Heart Disease
Niacin is a natural supplement that works to lower total triglyceride levels. Triglycerides are the form that most fat exists in, in both food and the body. The higher these levels are, the higher the risk of coronary heart disease.
Niacin can lower the "bad" cholesterol (also known as low-density lipoprotein or LDL) in the body. LDL builds up in the arteries causing them to become hard and narrow, increasing the chances of heart disease. It also works to increase the "good" cholesterol (also known as high-density lipoprotein or HDL), which protects the heart by removing LDL from the blood, keeping it from building up in the arteries.
Niacin, along with healthy diet and exercise, provides an alternate option to prescription medications as it is proven to work in lowering total triglycerides for some persons. As an added benefit, Niacin has much fewer side effects than most statins and is generally more affordable.
It Boosts Energy and Reduces Oxidative Stress
Niacin, is one of the eight, water soluble B-vitamins. It is crucial in converting carbohydrates into glucose, which is then 'burned' to produce energy. It is also critical in the breakdown of fats and proteins. It helps to convert these foods to energy by assisting enzymes involved in cellular metabolism.
Vitamin B3 also acts an antioxidant and plays a key role in reducing oxidative stress – which has been implicated in the development of many diseases, including atherosclerosis (building up of plaque in arteries).
Antioxidants like Niacin are also known to keep skin looking young and vibrant.
Prevent Uncomfortable Side Effects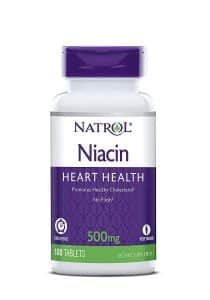 Natrol's Niacin has a delivery system that releases Niacin steadily. This allows for absolutely zero flushing. Flushing is an effect often associated with Niacin in a standard delivery format characterized by a hot, burning and itchy sensation on the skin. The Time Release (TR) system also reduces the risk of encountering other side effects associated with Niacin in its standard delivery format such as gastrointestinal discomfort and headaches.
Click here for more information on Natrol Niacin.