There are two types of people in this world: those who think that hair is our crowning glory and take great pains and pleasure in caring for it; and those of us who are simply not invested and live by the adage, "however it fall, so it will hang."
But the one thing that ties both parties together – the terrifying panic that creeps in when hair begins to fall out!
There are many reasons – simple and complex – why both men and women may suffer from hair loss in their lifetimes. Fortunately, there are also solutions to many of those reasons.
Your hair has a three phase life cycle:
Anagen which is the growth phase – hair is actively growing,;
Catagen which is the transition phase – hair stops growing;
Telogen which is the rest phase – hair falls away to be replaced by the next hair in Anagen.
During the growth phase, hair growth can average between 18 to 30 inches within 3 to 5 years. Of course, this varies based on individuals due to genetics. After the growth cycle, the hair enters the transition phase, which lasts about 2 to 3 weeks and where no new growth happens. Finally, hair – still attached to the follicles – gradually sheds. The average Joe with a healthy head of hair can lose up to 80 strands, and then the cycles begins all over again.
It is important to understand your hair growth – as it's unique to everyone – when nurturing your hair. Where noticeable or severe hair loss in concerned, it usually stems from a disruption in the growth cycle.
Here are four common reasons that you may be experiencing hair loss due to a disrupted growth cycle.
Hormones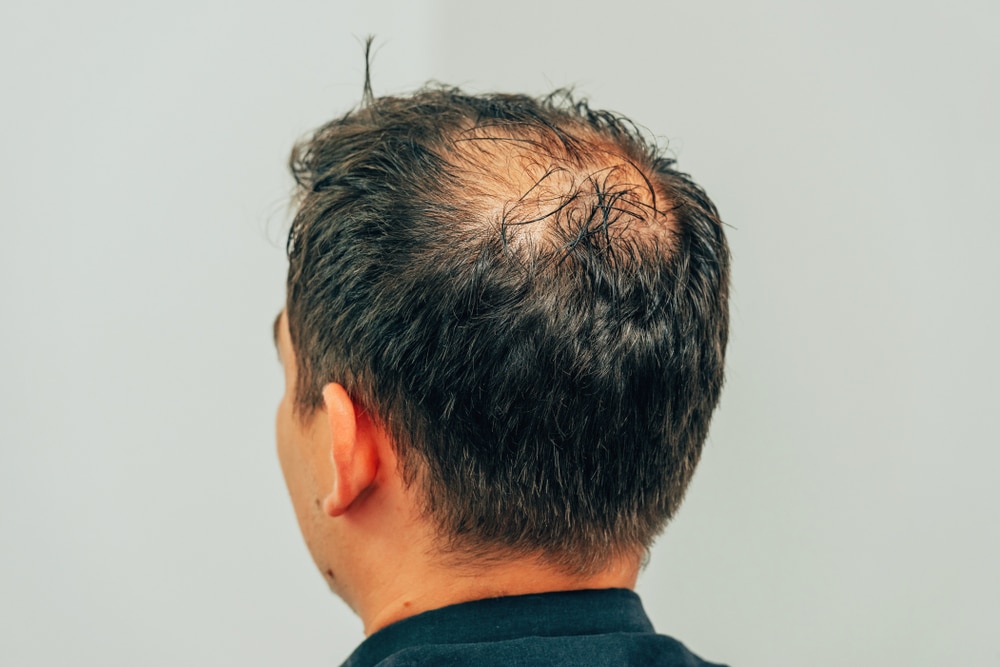 This is the most common reason for hair loss in both men and women. Hormonal changes can be due to pregnancy, menopause and andropause (that's male version of menopause!) amongst other causes.
Also, for both men and women, there is usually a dramatic shift in the hormonal balance around the age of 60. This, unfortunately, tends to lead to general hair thinning over the entire head in women and the classic thinning and balding of the hairline to form the W shape in men known as male patterned baldness.
Stress
An increasingly common cause of hair loss is stress. Physical and emotional stress can cause your hair to shed! When your body encounters trauma, it can affect the hair cycle, shortening the growth cycle and lengthening the rest phase – causing the hair to shed more vigorously than normal. And remember, emotional stress often manifests itself physically so a natural result of emotional strain is hair thinning and/or loss.
Dramatic Weight Loss
This is hair loss culprit many times goes unnoticed! Sudden and dramatic weight loss, especially in a short period of time, can trigger hair loss. The abrupt changes that the body experience can force it to redistribute essential nutrients. Most persons do not supplement properly during their weight loss journey, especially so with protein. Now, this leaves the body to decide where to send the little protein there is – and because hair is not crucial to sustaining life – it's often relegated to last place.
Overprocessing
Hair strands and follicles that are consistently arrested and pulled and tugged at do not stand a chance. When hair is constantly being treated, especially with heat and chemicals, from roots straight to ends without rest and a recovery period, thinning and eventual loss is inevitable. Harsh treatments open pores on the hair shaft and pull nutrients out which can lead to damaged hair follicles which will slow hair growth, dry and damaged hair shafts which will be prone to breakage or even permanently stunted hair growth.
Alright, did these hair loss reasons fall straight into your lap?
What's the solution?
First things first, don't make things worse by continuing with hair damaging beauty routines because they're popular or not implementing those extra vitamins, minerals and proteins during your weight loss journey.
Then, pay attention to your personal hair growth cycle and the things your hair craves to make it grow. Take the necessary steps to nurture your hair in the same manner you'd do for any other part of your body. And remember, what you put inside the body affects what shows up on the outside.
Take care of your mental well-being. A stressed out body will not work like a well-oiled machine. Your hair health will suffer. Additionally, don't be daunted by age or genetics.
Finally, use clinically tested hair care products like the FOLIGAIN range of hair care products to help restore that fuller, younger looking, shining head of hair or simply as a maintenance to ensure that you don't lose those locks that you've invested time and effort into.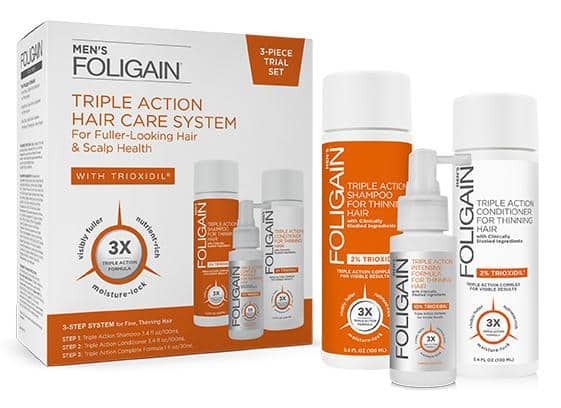 Foligain is a specially formulated hair thinning and hair loss solution for both men and women that has been given the thumbs up by regular users saying that it helps reignite growth and reduce hair fall. The line consists of a cleansing shampoo, light weight conditioner, targeted treatment and an ergonomic hair & scalp roller that reduces hair fall, stimulates growth and retains moisture and luster thanks to its active ingredient – Trioxidil.